Summer is the time to explore near Fairfield. And when discovering new spots, be they west or along the Sound, the opportunities for towing gear and stowing recreational equipment become valuable in an SUV.
At Jaguar Fairfield, Jaguar SUVs of Jaguar F-PACE, Jaguar E-PACE and Jaguar I-PACE are all enjoined with towing and load capacities, and the necessary accessories to facilitate. All that's needed are your adventurous desires "pulling up the rear."
What Are The Towing, Load Capabilities of Jaguar SUVs?
When considering an SUV of any brand, you'll want certain features to perform as you wish. Given SUVs tend to be self-sufficient and adaptable, they have become popular with active families and athletic individuals throughout Fairfield.
Below are the celebrated Jaguar SUVs with towing and load capacities intact:
Jaguar F-PACE Luxury SUV
Efficiency is the underlying theme here. With seating for five and all-wheel-drive, you've got the capability of hauling up to 5,291-lbs. Roof-loading opportunities consist of 165-lbs., including crossbar weight. Interior wise, cargo volume is measured to 69.1 cu.-ft., behind the first row.
Jaguar E-PACE Compact SUV
If there's one word to describe Jaguar E-PACE, it would be agility. Drivetrains comprise rear- and all-wheel-drive, and seating for up to five. Maximum towing capacity is rated at 3,968-lbs., while interior cargo spacing affords up to 61.7 cu.-ft. of storage opportunities. Ground clearance is measured to 8.5-inches, which enables the accessing of Adirondack trails.
Jaguar I-PACE, All-Electric SUV
Electric vehicles (EV) are tempering the high tide of fossil fuel reliance. With all-wheel-drive spiriting five occupants, load-space length behind the first row is measured to 70.7-inches. Roof carrying opportunities will handle 165.3-lbs. A rear-mounted bike carrier will support bikes comprising 66-lbs. in-total.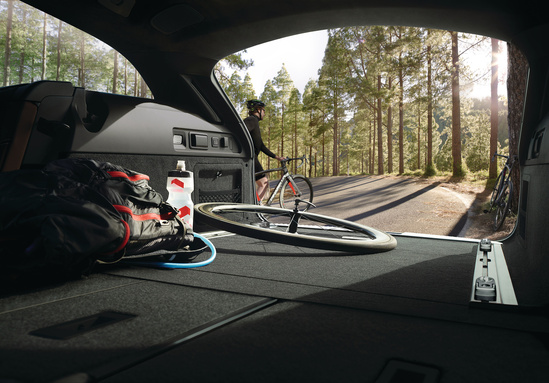 Jaguar Fairfield Offers Jaguar SUVs, and Their Towing, Loading Prowess
Visit our local Fairfield area dealership today to learn more about Jaguar SUV towing and loading capabilities, and accessories too.